Can Tho Night Market – Best Nightlife Activity
Mon, 22/07/2019
4844 viewed
1 commented
Located in
Mekong Delta
in Southern Vietnam, Can Tho is the big city that attracts tourists with lush fruit gardens, lively Cai Rang floating market, and stunning landscapes. Because the nightlife scene in Can Tho is less bustling than Hanoi City or Ho Chi Minh City, tourists can be concerned about what to do when the darkness covers.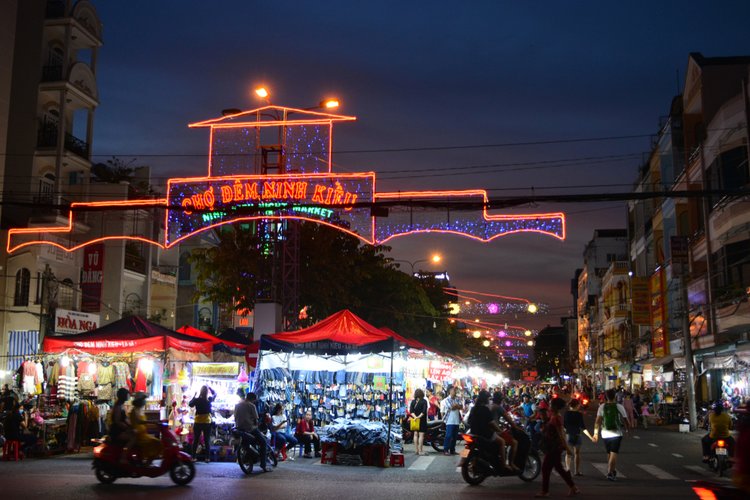 Luckily,
Can Tho night market
beside the river is worth a visit for sure. Whether you aim to buy something for your beloved or simply go for a stroll to widen your horizon, the night market is always an idea place. For us, it is better to go here without expectation. Just enjoy the comfortable atmosphere of the river and small park around. Look? What are you waiting for? A wide array of fruits, fashion, shoes and even food are lively in front of your eyes? How wonderful!  
So, what are the best night markets you can visit in
Can Tho
? Let's see!  
Ninh Kieu Night Market
As the complex night market, Ninh Kieu is now situated at Tan An ward, Ninh Kieu District, Can Tho City, and opens from 4 PM to 4 AM next morning. However, several kiosks and stores often close before 12 PM.  
It becomes an attractive destination for both domestic and international tourists, thanks to its diverse and exotic goods, such as nice souvenirs, delicious food and a long pedestrian street. Not only that, your eyebrows will be raised with the gorgeous sceneries on and around Hau River. That's why it seems a big pity to miss taking photos of the awe-inspiring surroundings.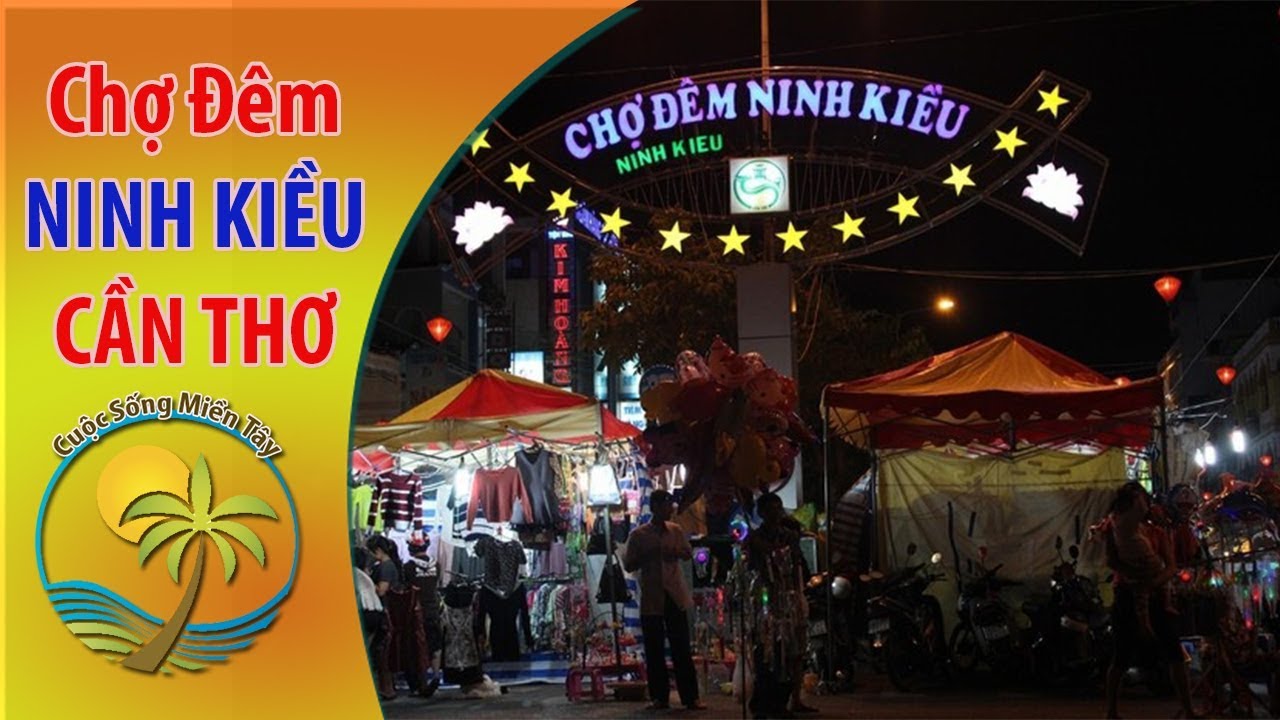 We think that all of us find it hard to say NO to enjoying fruits. For that reason, the fresh fruit stalls can be the big magnet for you, which even display special fruits from Western of Vietnam, such as Lo Ren star apples, Hoa Loc sweet mangoes, Nam Roi sweet pomelos, and so on. The best part is that you can even try the sample fruits before deciding whether to buy them or not. The sellers here are very friendly without being bothered about your behavior. They also want the buyers feel happy with their choice.  
If you want to be like what the locals wear, think about buying clothes in the market with the quite cheap prices (less than 100,000VND). Or you can purchase some traditional pijama clothes as gifts for your loved ones. The highlight of the market is that there are stores selling T-shirts with images instantly printed on them. The images are printed, according to the available templates or the desires of the buyers. The locals are honest, lovely and never overcharge. So, there is no need to bargain with such an affordable price like that.  
Tay Do Night Market (Can Tho Night Market)
Far 1 kilometers from the city center, Tay Do Night Market is located inside Can Tho International Exhibition. The market is previously the wholesale market where goods was transshipped with many locals and foreign partners. At present, it is not only the place for shopping, but also the stunning attraction for both locals and foreigners.  
If you have not bought fruits in the Ninh Kieu night market yet, then Tay Do will be another nice stopover that can satisfy your wish. Hundreds of fruits are sold and arranged with attractive colors, like the yellow of mangoes, the green of vegetables, the light red of apples, etc. Especially, these fruits and vegetable are mostly picked up within the day, so their freshness, sweetness and nutrition are highly ensured.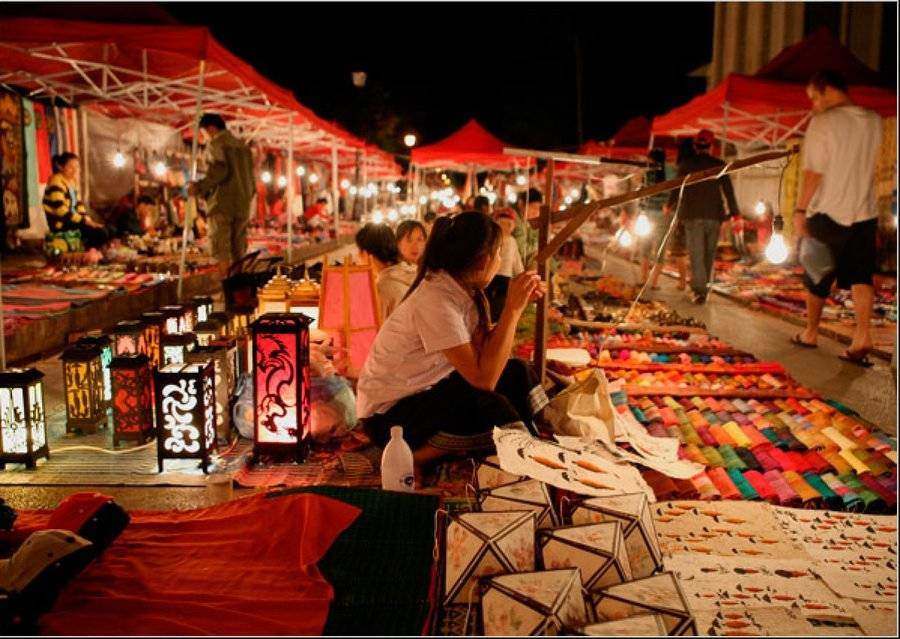 Rustic goods are showed to attract travelers, too. You can freely choose to purchase some Tet cakes or aromatic coconut leaf cakes back to home. Try imagining their smiling faces after getting these presents from you.  
Along with selling goods and commodities, Tay Do Night Market is where you can enjoy many entertainment services, ranging from electronic games to outdoor music theater without paying much money. All is greatly in harmony with the cool atmosphere at night, creating unforgettable memories.  
There are no seats here, so we recommend you to buy and carry your food to the rows of benches at Ninh Kieu Wharf park, far a few meters away, to enjoy.  
Tran Phu Night Market
While Tay Do and Ninh Kieu are in close proximity to each other, Tran Phu night market is situated in Cai Khe area at the end of Tran Phu Street where it meets Hau River Road. That's why it is also named Cai Khe Night Market.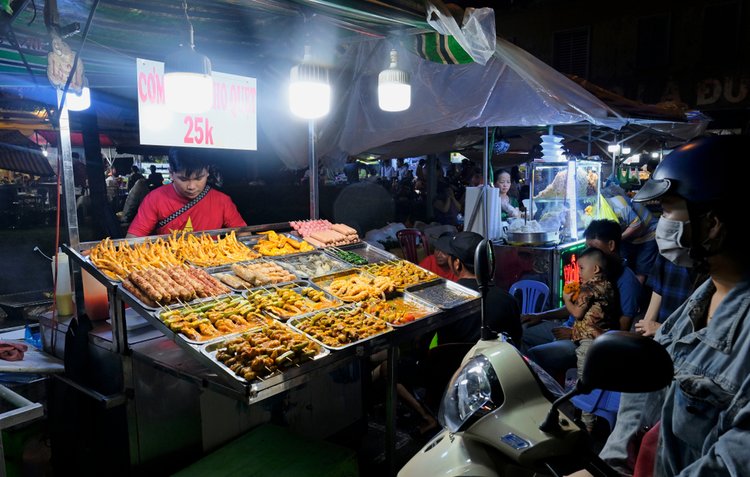 The truth is that this night market is very popular among young people, thanks to a large food area. Here is where you can enjoy the paradise of seafood. Carts are fully loaded with fresh sea creatures, such as fish, clams, octopus, prawns, and squid. Simply pick what you want best, ask the price, and then select how you want it prepared (grilled, fried, steamed…). And a seafood hot pot is often the most favorite option.  
Besides, the market also sells many kind of fresh seafood dishes, hotpot, snacks, etc. The area in front of the Nesta hotel is a snack area. Make sure that you have room for dessert, like fresh sugar cane juice, sweet gruel (chè), a giant cup of cut tropical fruits, and so on.
In addition to
Can Tho night market
, the city also has more things to offer to tourists and visitors, so it is never a boring city at night. There are lots of things you can do to enjoy the best Can Tho nightlife, such as spending a night out in cafés or bars, dining on the boat along Hau River, wandering along Ninh Kieu Bridge, or tickling your taste bud with street food, etc. Wish you have a meaningful and wonderful tour to Can Tho!
Other news